Hydra Carpet Cleaning
881 W. Main St.
Madison, OH 44057

Phone: (440) 862-5505
E-mail
Services for Hydra Carpet Cleaning
Trust the Carpet Masters!
We include all the essentials for a "true" carpet cleaning. A hot pre-conditioner is applied before the cleaning process to help loosen the soils. Deodorizer and sanitizer are also in the cleaning solution that will be used. For tough stains, some spots may require the use of professional spotting agent for removal. Grooming the carpet when complete is important, this stands the fibers up (provided it is a cut or plush pile carpet), allowing the carpet to dry faster.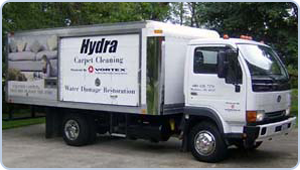 Our services include:
Carpets
Oriental Rugs
Upholsrty
Water Damage Restoration
Carpet Repair
Odor Control
Hard Surfaces
Have any questions? You may go ahead and take a look at our FAQ section for answers.
Contact Us for
Carpet Care Tips!
You can call us for answers to all your carpet & upholstery questions. We always give you a yearly reminder to have your carpet cleaned.
Copyright © Hydra Carpet Cleaning, 2013. All rights reserved.